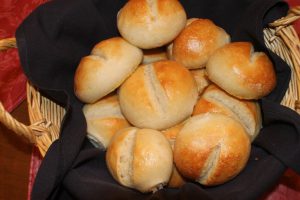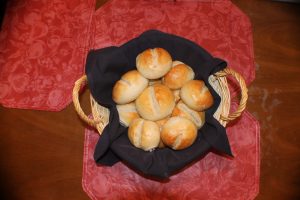 Crusty Rolls
2016-07-18 16:31:07
starter
1/2 cup cool water
1 cup King Arthur Unbleached All-Purpose Flour
1/8 teaspoon instant yeast
dough
all of the starter
3 1/2 cups King Arthur Unbleached All-Purpose Flour
1 cup lukewarm water
1 1/2 teaspoons salt
1/4 teaspoon instant yeast
egg wash
1 large egg white mixed with 1/2 cup cool water
Instructions
To make the starter: Mix the starter ingredients together until smooth, cover, and let rest at room temperature overnight.
Combine all of the dough ingredients and mix and knead them together — by hand, mixer or bread machine — until you've made a soft, somewhat smooth dough; it should be cohesive, but the surface may still be a bit rough. It may also stick to the bowl just the tiniest bit.
Allow the dough to rise, covered, for 3 hours, gently deflating it and turning it over at 1 hour, and again at 2 hours.
Turn the dough out onto a lightly greased work surface. Divide it into 12 pieces, shape the pieces into balls, and firm them up by rolling them under your lightly cupped fingers.
Place the rolls on a parchment-lined baking sheet, cover them, and let them rise for 1 to 2 hours, until they're puffy, though not doubled in size. They'll flatten out a bit as they rise; that's OK.
Cover the rolls, and refrigerate them for 1 to 2 hours. Towards the end of the rolls' chill, preheat the oven to 425°F. Do not over do the refridgeration or the rolls will be hard as a rock. Cook the rolls immediately.
Whisk together the egg white and water until frothy. Remove the rolls from the refrigerator, and brush them with the wash; you won't use it all up. Again, don't be discouraged if the rolls seem a bit flat; they'll pick up when the hit the oven's heat.
Slash a 1/4" deep cut across the top of each roll. Immediately put the rolls into the oven.
Bake the rolls for 20 to 25 minutes, until they're a deep golden brown. Remove them from the oven, and cool on a rack. Or, for best crunch, open the oven door, and allow the rolls to cool in the turned-off, open-door oven.
Print
recipes https://blog.homlish.net/