smoked leg of lamb
2021-07-03 14:46:53
Ingredients
1 whole leg of lamb, 5 - 7 pounds
Marinade
1 whole medium onion
10 garlic cloves
rosemary
salt
black pepper
oil
Instructions
Blend marinade ingredients. Pour over lamb and refrigerate overnight.
Bring lamb to room temperature before smoking.
Smoke at 200 - 225°F for 2.5 to 4 hours. Be careful, don't overcook it.
Let rest 15 - 30 minutes, temperature will rise about 5°F.
Temperature: Rare: 115-120°F, Medium-Rare: 125°F, Medium: 130°F, Medium-Well: 145°F, Well Done: 150°F
Print
recipes https://blog.homlish.net/
Smoked Crown Rack of Lamb
2016-07-20 15:31:32
Ingredients
1 lamb crown roast.
Get the butcher to use 3 racks of lamb for a nice round crown. Two will work but you'll need a separate container for the extra stuffing.
1 tablespoon olive oil
1/2 cup finely chopped celery
1/4 cup sliced green onions
1/2 teaspoon ground allspice
1/2 teaspoon salt
2 cups cooked brown rice
2 cups cornbread stuffing
1 cup chicken broth, heated
1/2 cup dried cranberries soaked in hot water for 15 minutes, drain well
1 can or fresh (11 ounces) mandarin oranges, drained
smoking chips
The Stuffing
In skillet, heat oil over medium-high heat. Saute celery and onion 4 to 5 minutes, stirring occasionally.
Stir in allspice and salt.
Toss with cooked rice, cornbread crumbs, broth and cranberries. Cover and set aside.
The Crown
If the stuffing was made ahead of time and refrigerated bring it out now to warm to room temperature.
Rub inside and outside of crown with pepper, wrap each rib bone with tin foil, let warm to room temperature
prepare smoker: ideal temperature 210°F
Place crown on smoker, add smoking chips and cover.
Smoke for 45 minutes.
Remove crown from smoker. Place parchment paper under the crown. Spoon stuffing loosely into center cavity of crown.
Return crown to the smoker.
After 1 hour remove the aluminum foil from each rib tip.
Smoke an additional 30 minutes or until meat thermometer registers 135°F for medium-rare, 145°F for medium or 160°F for well, and stuffing is heated through.
Remove from grill and cover. Temperature will rise ~ 10°F while you allow it to rest for 10 minutes before carving.
Notes
Total cook time on the smoker: ~ 2 hours 15 minutes
Cut between individual ribs and serve with stuffing. Garnish with oranges. Serve with mint sauce and seedless raspberry jelly.
Print
recipes https://blog.homlish.net/
Easter 2020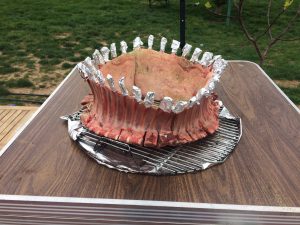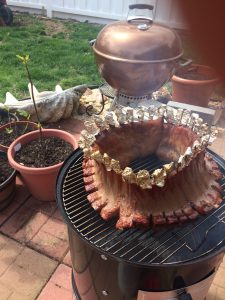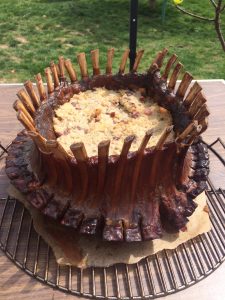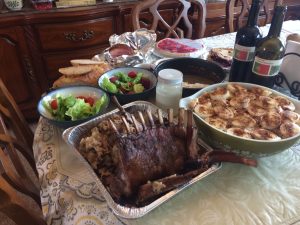 My friends got takeout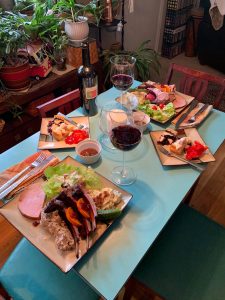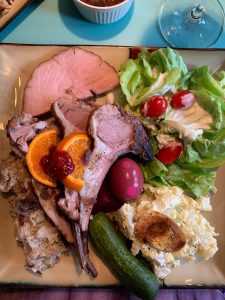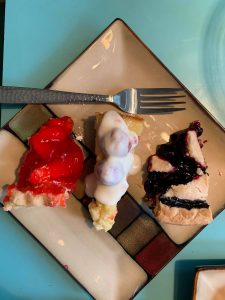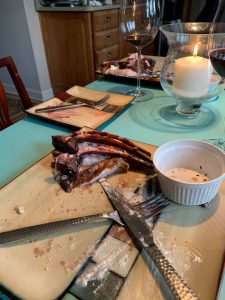 Easter 2021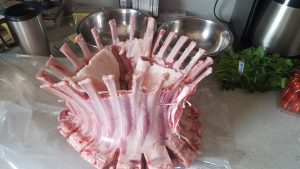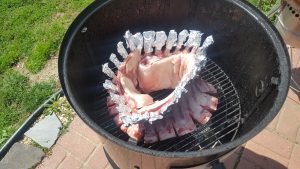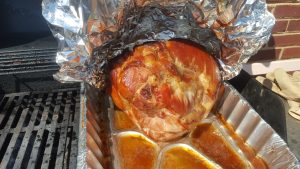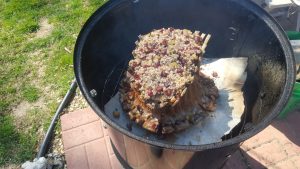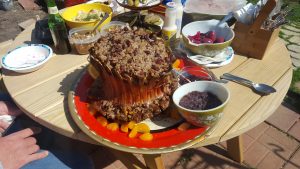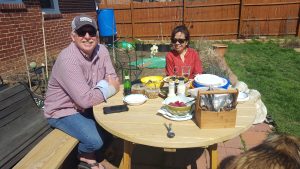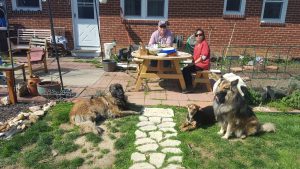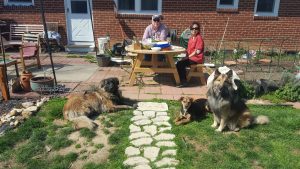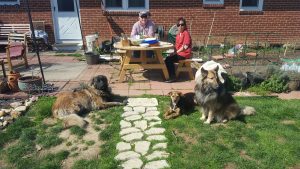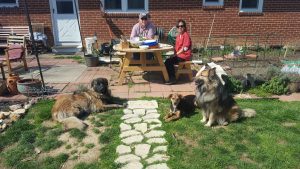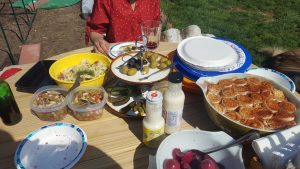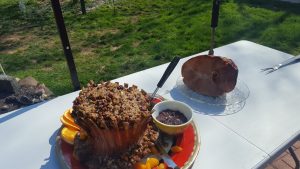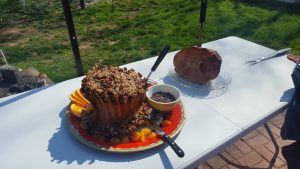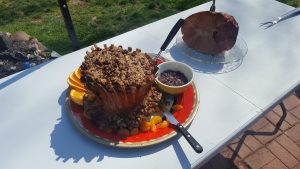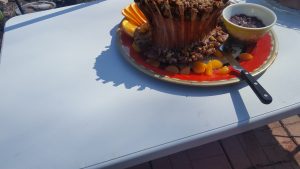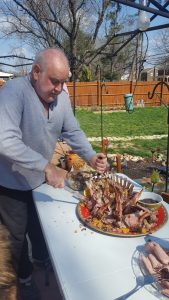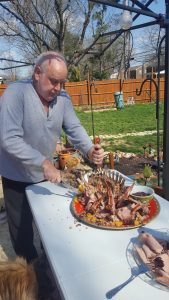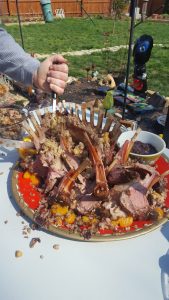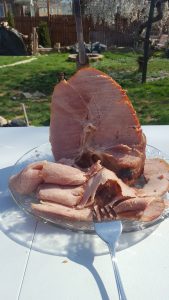 Grilled Leg of Lamb
2016-07-18 08:46:38
Rub
1 1/2 garlic bulbs
1 tsp salt
1 tsp black pepper
1 Tbs safflower oil
1 large orange
1/8 cup fresh thyme
1/4 cup fresh rosemary
Lamb
1 (6 1/2- to 7-lb) bone-in leg of lamb, trimmed of all but a layer of fat
Instructions
Peerl orange. Save orange peels. Add orange plus all rub ingredients to food processor a blend. Rub rub all over the lamb. Put lamb and orange peels in a plasic bag at room temberature for 4 hours.
Prepare grill for indirect-heat cooking over medium-hot charcoal.
Grill lamb over area with no coals without turning, until thermometer inserted into thickest part of roast (almost to the bone but not touching it) registers 125u00b0F for medium-rare, 1 to 1 1/2 hours (temperatures in thinner parts of leg may register up to 160u00b0F). To maintain medium-hot charcoal, add more charcoal (about 2 cups) every 20 minutes. Optional: add cherry smoking wood chips while grilling.
Let lamb stand on a cutting board, uncovered, 10 minutes.
Print
recipes https://blog.homlish.net/