Lemon ricotta cake
2020-03-15 07:03:38
Ingredients
1/2 cup or 1 stick unsalted butter, room temperature
3/4 cup caster sugar
1 teaspoon vanilla extract
3 large eggs
3 tablespoons lemon juice, freshly squeezed
Zest of 1 lemon
1 cup plain flour
2 teaspoons baking powder
1 cup ricotta
1/4 cup milk
1 cup heavy cream
1/2 cup mascarpone
mascarpone substitute (
1 16 oz block of cream cheese
1/2 cup sour cream
1/4 cup heavy whipping cream
Blend until smooth
)
powdered sugar
fresh raspberries
Instructions
Preheat oven to 180 C (350 F) standard / 160 C (320 F) fan-forced. Grease an 8-inch round cake tin with butter and line the bottom with parchment or baking paper.
In a large mixing bowl, add butter, sugar and vanilla and beat with an electric mixer until pale and creamy. Add eggs, one at a time, and beat until combined.
Add lemon juice, lemon zest, flour, baking powder and ricotta and beat on a low speed. Add milk and beat briefly until combined. Cake batter may be lumpy and curdled but this is totally fine.
Pour batter into prepared cake pan and place in the oven for approximately 30-35 minutes or until a skewer inserted in the middle comes out clean (caution ignore the fact the cake appears wet and wobbly in the middle. Use the toothpick!). Leave cake to cool completely in cake pan.
Add cream and mascarpone to a mixing bowl and beat using an electric mixer for a couple of minutes or until thickened.
To serve, dust cake with powdered sugar. Cut into small slices and serve with mascarpone cream and fresh raspberries.
Print
recipes https://blog.homlish.net/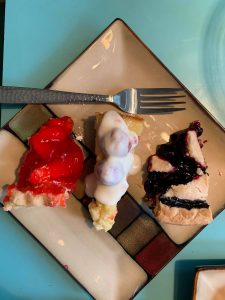 Lemon Ricotta Cake is in the middle.