Peach Pie Filling - Canned
2021-08-08 06:19:00
For one quart
2.5 lbs peaches
1 teaspoon lemon juice
1/2 cup dark brown sugar, or as desired
1/4 cup sugar
1/4 teaspoon ground cinnamon, nutmeg, or cardamom, optional. Keep it just 1/4 tsp.
1 teaspoon vanilla extract, optional
1/2 tsp ascorbic acid
For 7 quarts
Multiply above by 7.
Preparation
Select xxx quart pot (pot A). Add enough water to boil small batches of peaches. Bring to a boil.
Prepare large bowl of cool water to cool peaches after peeling. They each need to cool 20 seconds.
Prepare 21.5 quart canning pot for putting the peaches in while waiting to cook. Add one gallon of water and ascorbic acid.
Prepare 8+ quart pot for canning.
Prepare your jars and lids.
Cooking
Peel peaches. To loosen skins, submerge peaches in boiling water for approximately 30-60 seconds, and then place in cold water for 20 seconds. Slip off skins.
Slice peaches about 1/2" thick and place in ascorbic acid pot.
Place 8 peaches at a time in 1 gallon boiling water. Boil each batch 1 minute after the water returns to a boil. Drain but keep heated fruit in a covered bowl or pot.
Combine water, sugar, Clear Jel, nutmeg, & vanilla in a large kettle. Stir and cook over medium high heatuntil mixture thickens and begins to bubble.
Add lemon juice and boil sauce 1 minute more, stirring constantly.
Fold in drained peach slices and continue to heat mixture for 3 minutes.
Fill jars without delay, leaving 1 inch headspace. Adjust lids and process immediately.
Print
Adapted from USDA Complete Guide to Home Canningm Reprinted with revisions September 1994
Adapted from USDA Complete Guide to Home Canningm Reprinted with revisions September 1994
recipes https://blog.homlish.net/
quart jar calculations : 8 cups = 1 quart; 7 cups to allow for head room
5 cups (~2.5 lbs) peaches
1/2 cup brown sugar
1/4 cup sugar
3/4 cup water
1/4 cup clear jel (1.5 lbs. (approx. 2.5 cups, 0.6 lbs/cup)
1 tsp lemon juice
1 tsp nutmeg
An average of 17-1/2 pounds is needed per canner load of 7 quarts
A bushel weighs 48 pounds and yields 16 to 24 quarts – an average of 2-1/2 pounds per quart.
2.5 lbs/quart
20 lbs / 2.5 = 8 quarts
First try 2021-08-08. We'll target 7 quarts for canning & 1 quart for a fresh tester pie.
8*.5 = 4 cups brown
8*.25=2cups white
8*3/4=6 cups water
8*.25=2cups clear jel
8*.25tsp=2 tsp nutmeg
8*1=8 tsp lemon juice
Peach Cobbler
2020-07-10 12:15:00
Ingredients
5 peaches , peeled, cored and sliced (about 2 cups)
3/4 cup granulated sugar
1/4 teaspoon salt
For the batter
6 Tablespoons butter
1 cup all-purpose flour
1 cup granulated sugar
2 teaspoons baking powder
1/4 teaspoon salt
3/4 cup milk
1 egg beaten
1 tsp ground cinnamon
1⁄2 teaspoon nutmeg
Instructions
Add the sliced peaches, sugar and salt to a container. Let sit an hour or more.
Preheat oven to 350 degrees F. Slice butter into pieces and add to a 9x13 inch baking dish. Place the pan in the oven while it preheats, to allow the butter to melt. Once melted, remove the pan from the oven.
In a large bowl mix together the flour, sugar, baking powder, and salt. Stir in the milk, just until combined. Pour the mixture into the pan, over the melted butter and smooth it into an even layer.
Spoon the peaches and juice (or canned peaches, if using) over the batter. Sprinkle cinnamon generously over the top.
Bake at 350 degrees for about 38-40 minutes. Serve warm, with a scoop of ice cream, if desired.
Print
recipes https://blog.homlish.net/
Peach Cobbler (canned)
2018-07-31 14:58:16
Ingredients
Batter
1⁄2 cup melted butter
1 cup flour
1 cup sugar
2 teaspoons baking powder
1⁄4 teaspoon salt
2⁄3 cup room temperature milk
room temperature egg
Filling
1 (28 ounce) cansliced peaches, drained
1 cup sugar
1 teaspoon cinnamon
1⁄2 teaspoon nutmeg
Instructions
Melt butter in a 9 x 13 inch pan.
Mix together flour, sugar, baking powder & salt.
Stir in milk & egg.
Pour evenly over melted butter.
Combine peaches, sugar & spices and spread over batter-DO NOT STIR!
Bake 35-45 minutes at 350°F until batter comes to the top and is golden brown.
Serve warm with ice cream.
Print
recipes https://blog.homlish.net/
mincemeat pie
2017-10-27 07:53:52
Ingredients
beef
suet
golden raisins
citron?
Dates
figs
cherries
apricots
molasses
brown sugar
applejack brandy or sherry
apple cider
green apples
quince (or bartlett or chinese pear)
1 tablespoon ground mace
2 teaspoons ground cinnamon
1 teaspoon ground nutmeg
2 teaspoons ground allspice
2 tablespoons white pepper
candied orange, lemon, citron
one pie crust
Instructions
Then bake in a 400 degree oven for about 45 minutes, or until the crust looks golden brown.
Print
recipes https://blog.homlish.net/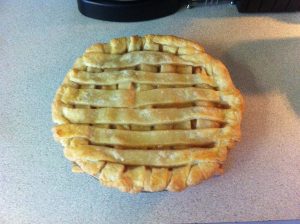 Apple Pie
2016-07-20 15:17:55
Ingredients
1/4 cup apple juice
1/2 cup brown sugar
4 tbsp light butter (stick or tub) at room temperature
4 Gala or Granny Smith or Honey Crisp apples, peeled, cored and sliced
2 tbsp cornstarch
2 refrigerated ready-made piecrusts
1 tsp cinnamon
Instructions
Preheat oven to 350°F. Combine apple juice, sugar, and butter in a bowl. Add apples and cornstarch. Place one piecrust in a 9" pie pan and fill with mixture. Slice the second piecrust into eight 1/2-inch-thick strips and drape over filled pie shell in a crisscross pattern; pinch edges to fasten to bottom crust. Bake 55 minutes or until golden brown. Sprinkle top with cinnamon.
Print
recipes https://blog.homlish.net/
Pie Crust
2016-07-20 15:16:39
Ingredients
2 1/2 cups flour
1 teaspoon salt
1 teaspoon sugar
1 cup (2 sticks) very cold butter, cubed or cut into small pieces
6 to 8 tablespoons ice cold water
Optional: Egg wash (1 egg whisked with 1 tablespoon water or milk)
Instructions
Makes two 9-inch piecrusts or 12 to 15 Jr. Pie piecrust rounds
A few simple tips will help you make a wonderful butter crust. Make sure the ingredients are very cold. you can even chill the flour! Also, make sure not to overwork the dough, that's really the key.
1 In a large bowl or mixer, combine the flour, salt, and sugar. Add the butter pieces and cut them into the flour mixture, working until you have big crumbs (see Tip). Add ice cold water, 1 tablespoon at a time, and mix in until the dough holds together.
2 Divide the dough into 2 mounds. Wrap each mound in plastic wrap and refrigerate for 45 minutes to overnight. Let the dough stand for at least 15 minutes before rolling it out.
3 Roll out the dough on a lightly floured surface or between 2 pieces of parchment or wax paper, then place the rolled-out dough in the pie pan and press into place.
4 For pies with tops, brush a little water on the edges of the bottom crust before adding the top crust and crimp the edges of the top and bottom crusts together with your fingers to seal them all around the pie. You can use your fingers, thumb, fork, or the back of a teaspoon to add a design along the ridges. Also, gently lift the edges from the pan a bit (it helps make it easier to cut and serve slices of the baked pie later on). Make little slits in the top crust to allow steam to escape (and add a decorative charm!). Another fun flourish is to add to the top crust little pieces of scrap dough cut out in shapes such as flowers or leaves. Brush the top crust with an egg wash, place on the decorative bits, and sprinkle with sanding sugar (or regular sugar) for a sparkly top.
Tip: What's best to use to cut the butter into the flour?
You can use two butter knives or a fork, or pulse gently with your mixer, or use your fingers. If you want to get a fun and fancy tool, get a pastry blender, also called a pastry cutter. It's a handheld tool, kind of like a potato masher for pastry dough! Whatever you use, I recommend chilling the utensil in the freezer first, so it's nice and cold! It is important that the butter stays as cold as possible, so if you use your fingers, be careful not to warm the butter too much with your hands.
Notes
I'm thinking the one in better homes and gardens is better than this one.
Print
recipes https://blog.homlish.net/