Buttermilk Fried Chicken
2021-02-26 04:37:51
Ingredients
1 (3 1/2) pound chicken, cut into 8 pieces
1 teaspoon black pepper
1 teaspoon salt
1 teaspoon paprika
¼ teaspoon dried rosemary
¼ teaspoon ground thyme
¼ teaspoon dried oregano
¼ teaspoon dried sage
½ teaspoon white pepper
¼ teaspoon cayenne pepper
2 cups buttermilk
For the seasoned flour
2 cups flour
1 teaspoon salt
½ teaspoon paprika
½ teaspoon cayenne pepper
½ teaspoon garlic powder
½ teaspoon white pepper
½ teaspoon onion powder
2 ½ quarts peanut oil for frying
Instructions
Toss together chicken pieces, black pepper, salt, paprika, rosemary, thyme, oregano, sage, white pepper, and cayenne in a large bowl to coat.
Stir in buttermilk until chicken is coated. Refrigerate for 6 hours.
Combine flour, salt, paprika, cayenne, garlic powder, white pepper, and onion powder in a large shallow dish.
Remove chicken from the buttermilk and dredge each piece in the seasoned flour. Shake off any excess and transfer to a plate.
Heat peanut oil in a large Dutch oven to 350 degrees F (175 degrees C). Add all the chicken to the pan and cook for 10 minutes.
Turn chicken pieces and cook for another 10-15 minutes.
Remove chicken from the oil and transfer to a cooling rack set over a paper towel lined baking sheet. Let sit for 10 minutes before serving.
Notes
The oil is 350 degrees F (175 degrees C) to start, but when the chicken goes in it will drop to about 300 degrees (150 degrees C). It should rise back to 305-310 degrees F (155 degrees C) and be held at that temperature until done, about 20 minutes.
Print
recipes https://blog.homlish.net/
Buffalo Chicken Mac and Cheese
2019-01-30 07:04:25
Ingredients
2 1/2 cups uncooked elbow macaroni
1/4 cup unsalted butter
1/4 cup all-purpose flour
1/2 teaspoon ground mustard
2 cups whole milk
2 cups shredded Cheddar cheese (8 oz)
Salt to taste
1 cup chopped cooked chicken Save $
1 stalk celery, cut in half lengthwise, then cut into 1-inch pieces
1/4 cup crumbled blue cheese (1 oz)
1/4 cup Buffalo Wings Sauce
Instructions
Heat oven to 425°F. Cook and drain macaroni as directed on package, using minimum cook time.
Meanwhile, in 3-quart saucepan, melt butter over low heat. Stir in flour and mustard with whisk; cook and stir until smooth. Gradually add milk. Heat to boiling, stirring constantly. Boil 1 minute until mixture is hot and bubbly. Add Cheddar cheese; stir until cheese is melted and sauce is smooth. Season with salt.
Gently stir cooked macaroni into cheese sauce. Stir in chicken. Spoon into ungreased 8-inch square (2-quart) glass baking dish. Sprinkle celery and blue cheese over macaroni mixture. Drizzle with Buffalo wing sauce.
Bake uncovered 5 to 10 minutes or until bubbly and blue cheese is melted. Serve immediately.
Print
recipes https://blog.homlish.net/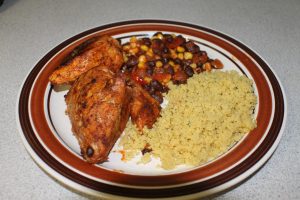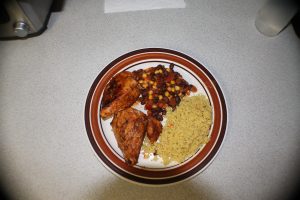 Blackened Chicken with Bean & Corn Salsa
2016-07-20 15:12:45
Ingredients
4 boneless skinless chicken breast halves
2 tsp chili powder
1/4 tsp salt
1/4 tsp pepper
1 tbsp canola oil
1 (15 ounce) can black beans, rinsed and drained
1 cup frozen corn, thawed
1 cup chunky salsa
couscous (optional)
Instructions
Combine the chili powder, salt and pepper; rub on both sides of chicken.
In a large skillet, cook chicken in medium heat 4-5 minutes each side, until juices run clear. Remove and keep warm.
Add beans, corn and salsa to skillet; bring to a boil. Reduce heat, cover and simmer 2-3 minutes, until heated through.
Put bean mixture on a serving dish; top with chicken.
If desired, serve with couscous for a complete, healthy meal 🙂
Print
recipes https://blog.homlish.net/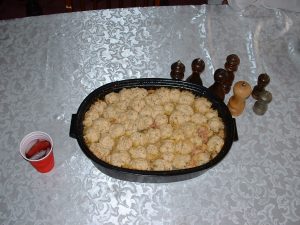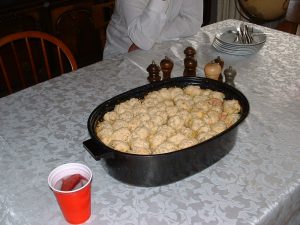 Chicken and Dumplings - 4 meals in one
2016-07-20 14:47:08
Ingredients
whole chickens
potatoes
onions
celery
carrots
Dumplings
1 cup all purpose flour
1 1/2 teaspoons baking powder
1/4 teaspoon salt
1/4 cup schmaltz
1/2 cup heavy creme
2 tablespoons chopped fresh Italian parsley
Also look at our buttermilk dumpling recipe, using buttermilk and eggs.
Instructions
Bake chickens unstuffed, eat them as meal #1.
pick remaining chicken, save meat in refrigerator.
put chicken bones in a big pot with some salt, boil lightly for 1 hour
remove the bones and strain the broth. When the broth separates, save the schmaltz (chicken fat) for the dumplings.
add potatoes to broth, boil lightly for 20 minutes
add onions, celery, and carrots and boil lightly 15 minutes
add chicken meat and boil lightly 5 minutes.
eat the soup as meal #2.
scoop out mostly the solid soup material and place in a broiler. Make sure it is just covered by liquid. Freeze the rest of the soup for another day meal #4.
bake for 30 minutes at 450F.
mix up all the dumpling ingredients.
add the dumpling mixture and bake another 20 minutes.
serve hot meal #3
Print
recipes https://blog.homlish.net/