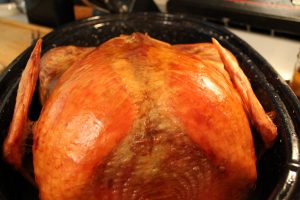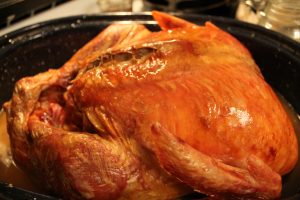 Roast Turkey
2016-07-20 15:08:06
Ingredients
One Whole Turkey
sage & thyme
celery, onion, carrots
butter
1/2 cup water
Instructions
clean turkey, inside and out.
stuff with herbs, onion, celery, carrots
butter the outside
preheat oven to 500
Place turkey in roasting pan with water, cook uncovered 20 to 40 minutes or until brown. Rotate & reposition often. Watch it carefully. This will start the outside cooking and help make the turkey skin brown and crispy when finished. Expect some sizzling but don't let it get too brown.
Turn down oven to 325.
Cover and cook for an additional time (see chart below for estimates) until temperature reaches 155 breast or 160 thigh. It's easy to miss the target temperature and over cook it but the good news is I've gone as much as 10 degrees over and it's still amazingly tender and juicy.
Remove lid, broil at 500 until nicely brown. Rotate and reposition often while watching it constantly. Can place tin foil over areas that get brown first to ensure bird is evenly browned.
Temperature should be 160/165 by now.
Remove from oven and let sit for 15 minutes before carving (see notes for tips on covering vs not covering. Temperature will reach 165/170 while cooling. This is the minimum for organic or farm fresh turkey, otherwise you might shoot for 170/175 if you are nervous about bacteria in a grocery store turkey.
Notes
Covering the turkey with tin foil will keep it extra juicy while uncovered will keep the skin crispy.
total cooking time inculding pre-browning and roasting.
These are estimates, go by the temperature not the time.
12-14 lbs cook 2 3/4 to 3 1/4 hours
15-16 lbs cook 3 1/4 to 3 1/2 hours
17-20 lbs cook 3 1/2 to 4 hours
21-22 lbs cook 4 1/4 to 4 1/2 hours
23-24 lbs cook 4 1/2 to 4 3/4 hours
Estimate 1.5 pounds per person with no leftovers.
2019 I'm going with 3 lbs * 6 people = 18 lbs
Print
recipes https://blog.homlish.net/